Sponsored by
June 14, 2018
1 PM ET
OpenStack is seeing accelerated adoption around the globe by the financial sector, managed service providers, NFV operators, enterprises and even small to medium businesses. Red Hat makes it easier to build, manage and operate an open cloud infrastructure. This enables organizations to realize operational and cost benefits by serving both their cloud-native stateless apps and their traditional, stateful workloads on the same cloud infrastructure.
In this webinar, Sean Cohen from Red Hat will join Boaz Michaely from Trilio to discuss the challenges of protecting traditional Enterprise workloads in this age of containers and cloud-native workloads. They'll also explore the role of cloud-native backup and recovery, including how Trilio enables administrators and tenants to:
Restore entire workloads into production after a disaster
Recover files, folders and data records after accidental damage or loss
Migrate workloads across OpenStack clouds and distributions
Quickly roll back from a problematic upgrade
Easily manage copy schedule and policies
The webinar will also include discussion of the Trilio architecture and a brief demo.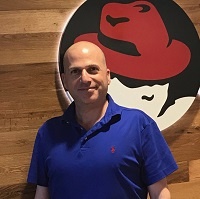 Sean Cohen
Senior Manager, Product Management, RedHat
A seasoned product manager bringing over 15 years of experience in senior product management and delivery for private clouds in the Enterprise market. Sean drives Enterprise Cloud infrastructure product management and strategy for Red Hat OpenStack Platform cloud offering. He is a member of the OpenStack Foundation, a frequent speaker at OpenStack summits.

Boaz Michaely
Director of Product Management at Trilio
Boaz is a seasoned technology and product leader with more than 15 years of experience in developing and bringing new products to market. Prior to joining Trilio, Boaz held multiple product management roles at EMC's Data Protection division, spanning the entire portfolio of business continuity, disaster recovery, backup and recovery systems, continuous data protection and copy data management products. He was instrumental in defining new hybrid-cloud data protection solutions while guiding customers and partners along their journey to the cloud. At Trilio, Boaz works to build telco-grade, data protection products to help service providers adopt NFV and OpenStack.