Sponsored by InfluxBD
July 24, 2018
1 PM ET
In this webinar, Sean Mack and Larry Gordon from XOps will share their experiences working with their clients to deploy the latest tools and implement practices across their organizations. Their focus has been on developing open source products to revolutionize technical operations by gathering and analyzing all operational metrics, logs, alerts, and business data in one place, in real time with a time series database like InfluxDB. This allows teams to build self-healing systems through automated issue resolution and provide visibility across business metrics with predictive analytics to determine trends before the competition.
For far too long technology teams have lived in silos. Not only physical silos, but cultural silos pushed by competing objectives. This includes informational silos where business users require one set of data and tech teams require different data DevOps intends to bridge these gaps to make tech driven operations more aligned and efficient.

Larry Gordon, Chief Revenue Officer at xOps
Larry is the Chief Revenue Officer at xOps and has held senior leadership positions at Cognizant and Capgemini and has founded and led IT services and software companies in the security, devops, and digital transformation segments. He has also been a successful angel investor in the energy and cloud spaces.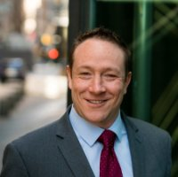 Sean Mack, CEO and Founder of xOps
Sean is a visionary technology executive with extensive experience in operations, development, quality assurance, program management, and infrastructure. Sean has led global DevOps teams across a wide range of companies from global financial companies like Experian to innovative tech companies like Etsy.