Sponsored by Electric Cloud
January 30, 2019
1 PM ET
In the 1982 best-selling book "Out of the Crisis," W. Edwards Deming introduced the world to 'The Seven Deadly Diseases', a list of the most serious barriers to success management faced within an organization. Years later, software is eating the world – and businesses are scrambling to keep up. With DevOps reaching the 10-year milestone, it's time for a checkup!
In this webinar, John Willis (Electric Cloud advisor and co-author of The DevOps Handbook) and Anders Wallgren (CTO, Electric Cloud) will discuss the "7 Deadly Diseases of DevOps" that inhibit IT organizational success and share examples of how to uncover these diseases through a process of organizational forensics.
You will learn:
Why you can't "Lean, Agile, SAFE or DevOps" your way around longstanding organizational habits

How and where human capital intersects with technology

The keys to long-term improvement

Anders Wallgren
Chief Technology Officer, Electric Cloud
Anders Wallgren is Chief Technology Officer of Electric Cloud. Anders brings with him over 25 years of in-depth experience designing and building commercial software. Prior to joining Electric Cloud, Anders held executive positions at Aceva, Archistra, and Impresse. Anders also held management positions at Macromedia (MACR), Common Ground Software and Verity (VRTY), where he played critical technical leadership roles in delivering award winning technologies such as Macromedia's Director 7 and various Shockwave products.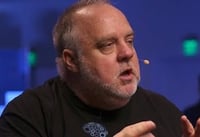 John Willis, Founder, Botchagalupe
John Willis has worked in the IT management industry for more than 35 years. John was Director of Ecosystem Development for Docker, he joined Docker when the company he co-founded (SocketPlane, which focused on SDN for containers) was acquired in March 2015. Previous to founding SocketPlane in Fall 2014, John was the Chief DevOps Evangelist at Dell, which he joined following the Enstratius acquisition in May 2013. He has also held past executive roles at Opscode/Chef and Canonical/Ubuntu. John is the author of 7 IBM Redbooks and is co-author of the "Devops Handbook" along with authors Gene Kim, Patrick Dubois and Jez Humble.