Sponsored by Catchpoint
January 16, 2019
3 PM ET
SaaS applications are increasingly critical to all enterprises. Research by BetterCloud indicates 38% of companies are running most (80%+) of their applications on SaaS, and by 2020 the number of companies will rise to 73%. Applications like Salesforce, Zendesk, Slack, and Okta have many users across the organization. So, outages and slowdowns bring productivity to a standstill.
When employees can't connect to their SaaS applications, the internal IT help desk is their first line of support. Unfortunately, help desk folk are often in the dark like employees. But the global transition to SaaS shouldn't mean giving up control and oversight of business-critical applications.
We have a solution. With SaaS Monitoring, you will be alerted instantly to SaaS outages and slowdowns, including the ability to isolate and fix local issues. Further, with trusted, shareable data from a neutral third party, you'll take back ownership of SLAs rather than relying on the vendor to communicate when they went down and how much they owe you.
Join Catchpoint, a leader in digital experience monitoring, and Ben Becker, Senior Systems Engineer at HubSpot, for a guide to successful SaaS Monitoring.
In just one hour, you'll learn the fundamentals of SaaS Monitoring; why monitoring SaaS applications is critical, common pitfalls, best practices, and how to use this data to manage your SLAs.
Register now for this free webinar.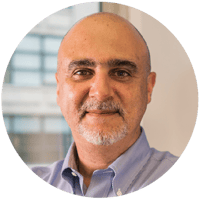 Mehdi Daoudi,
CEO and Co-founder, Catchpoint
Mehdi's experience in IT leadership inspired him to build the digital experience platform he envisioned as a user. He spent more than ten years at Google and DoubleClick, where he was responsible for quality of services, buying, building, deploying, and using internal and external monitoring solutions to keep an eye on the DART infrastructure delivering billions of transactions a day. Mehdi holds a BS in international trade, marketing, and business from Institut Superior de Gestion (France).

Ben Becker, Senior Systems Engineer, HubSpot
Ben Becker is a Senior Systems Engineer at HubSpot in Cambridge MA and has been for over 3 years. During his time at HubSpot, he's been focused on system monitoring, system resilience, automation, and figuring out new ways to make HubSpotters more productive. Previous to HubSpot, he was a Senior Developer Operations Engineer at Millward Brown Digital (nee Compete, Inc), a Quality Assurance Engineer at Go2 Media (nee 80108 Media), and a Quality Assurance Engineer at Houghton Mifflin Harcourt (nee Houghton Mifflin). He is a self-taught developer in Python, specializing in automation and connecting APIs, and holds a degree in English from the University of New Hampshire.

Vandan Desai, Senior Product Manager, Catchpoint
Vandan Desai is a Sr. Product Manager at Catchpoint, NY. He is responsible for Catchpoint's Enterprise node and is currently focused on automating the SaaS testing. In the past, he spent time as product manager and user experience expert at Samsung and Bloomberg. He is constantly experimenting with new tools, applications and workflows to optimize productivity. Finds happiness in deadlines, jubilation in code and ecstasy behind a camera lens. He pursues the ephemeral and the permeant all around the world.