Sponsored by Tricentis
September 17, 2018
12 PM ET
Led by Nicole Forsgren, Gene Kim, and Jez Humble, DORA (DevOps Research and Assessment) is recognized as the leading authority on the factors driving DevOps success. Their upcoming "2018 Accelerate State of DevOps" report is the result of five years of research, with over 30,000 data points from thousands of companies, to understand precisely what practices enable teams to deliver better software faster.
Join Nicole Forsgren, PhD, CEO and Chief Scientist at DORA and Wolfgang Platz, Founder and Chief Strategy Officer at Tricentis, to explore what this year's report reveals about the role of Continuous Testing in DevOps success. The focus will be on helping IT leaders understand:
Why and how high-performing teams make Continuous Testing a linchpin of their DevOps process
What specific strategies and practices enable high-performing teams to deliver faster and dedicate more resources to innovation
Which quality-related technology and process investments have the greatest impact on DevOps success

Nicole Forsgren, PhD,
CEO and Chief Scientist DevOps Research and Assessment (DORA)
Nicole Forsgren is Co-founder, CEO and Chief Scientist at DevOps Research and Assessment (DORA). She is best known for her work measuring the technology process and as the lead investigator on the largest DevOps studies to date. She has been a professor, sysadmin, and performance engineer. Nicole has been awarded public and private research grants (funders include NASA and the NSF), and her work has been published in several peer-reviewed journals. Nicole earned her PhD in Management Information Systems from the University of Arizona, and she is an Academic Partner at Clemson University and Florida International University.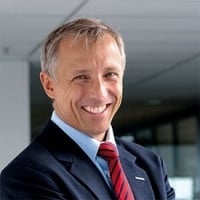 Wolfgang Platz,
Founder & Chief Strategy Officer, Tricentis
Wolfgang Platz brings over 20 years of technology experience to Tricentis. Wolfgang founded Tricentis in 2007 as a testing consultancy and laid the cornerstone for the development of our enterprise software testing product, Tricentis Tosca. Today, he is responsible for driving Tricentis' vision for making Continuous Testing a reality for enterprise DevOps. Platz also oversees the delivery of product-related support and services to our customers.
Prior to Tricentis, Wolfgang was at Capgemini as a group head of IT development for one of the world's largest IT insurance-development projects. There, he was responsible for architecture and implementation of life insurance policies and project management for several projects in banks.
Wolfgang holds a Master's degree in Technical Physics as well as a Master's degree in Business Administration from the Vienna University of Technology.