Sponsored by Datical
August 1, 2019
1 PM ET
Many – if not most – organizations have treated the deployment of code to databases differently than they do other code stacks. This is in part because few organizations have dedicated "Database Developers", as they do java, python, swift or other 'specialized' software engineers. It is also because databases have not traditionally been easily amenable to the standard software deployment processes or toolsets. These differences can lead to occasional deployment mishaps that can result in slow deployments or costly mistakes that are difficult to roll back. Ironically, making the case to justify an investment in database deployment automation is not necessarily an easy ask because these mishaps, though costly, are viewed simply as process failures due to resource or team "discipline" challenges. The truth is much deeper than that.
This presentation seeks to describe MedImpact's journey to improve database deployment throughput and quality – a journey that required people, process and tooling changes. It will also describe the justification process that finally enabled the investment, and the improvements we have experienced since.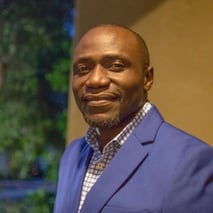 Mabuti Ng'andu – Director IT, Database & Middleware Administration
As Director IT at MedImpact Healthcare Systems, Mabuti Ng'andu is responsible for the installation, configuration, availability and operational management of key database and middleware technologies. He is also responsible for the configuration and software delivery change management into databases, and their associated release automation capabilities. Starting his career as an Oracle developer, Mabuti transitioned into database administration and solutions architecture before finally taking on leadership roles. He has worked for a variety of private and public organizations, small startups and fortune 100 companies including Abbott Laboratories where he led database and infrastructure teams. Mabuti holds a bachelors degree in Computer Information Systems from La Sierra University.

* $50 Amazon gift card! REGISTER AND ATTEND THIS ENTIRE WEBINAR AND 3 PEOPLE HAVE THE CHANCE TO WIN A $50 AMAZON GIFT CARD RIGHT ON THE SPOT!
This Campaign is open only to those who register for and attend the entire webinar. Employees of MediaOps and webinar sponsor(s)], its affiliates, subsidiaries, advertising and promotion agencies, and suppliers, (collectively the "Employees"), and immediate family members and/or those living in the same household of Employees are not eligible to participate in the Campaign. The Campaign is subject to all applicable laws and regulations. Void where prohibited. The Winner(s) of the Campaign will receive a $50 Amazon gift card which will be provided by MediaOps. Winners will be selected by the webinar moderator at the conclusion of the event and announced live at that time. You must be an attendee at the time of the drawing to win. No purchase is necessary. It is agreed that MediaOps has permission to use your name as a winner in promotional efforts and social media.