Sponsored by Codefresh
April 30, 2019
1 PM ET
Even though the public cloud has changed the way companies deploy and run applications, there are several cases (finance/healthcare) where all services of an organization are running in secure on-premise datacenters behind strict firewalls, in remote storefronts, or even in mobile locations with low connectivity. In this webinar, we will see how you can include these secure and remote services in your CI/CD pipelines, without compromising security and without opening firewall ports. We will use Codefresh and the new Codefresh Runner that can run wherever your clusters live.

Kostis Kapelonis, Developer Advocate, Codefresh
Kostis has more than 10 years of experience as a software developer, release engineer, and test analyst. He lives and breathes automation, good testing practices and stress-free deployments. He works as a developer advocate at Codefresh, the CI/CD company that ties Docker, Helm and Kubernetes in a single and cohesive platform.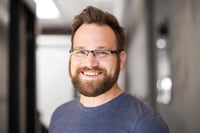 Dan Garfield, Chief Technology Evangelist, Codefresh
Dan Garfield is a full-stack engineer, Google Developer Expert, and member of the Forbes Technology Council. As a Kubernaut and CI/CD expert, Dan has built tools for advanced deployment methodologies with Kubernetes, Helm, and Istio. His code and talks have been featured at conferences including Kubecon, Dev Week, Google Cloud Summit, SwampUp, Redis Conf and many more.