LIVE FIRESIDE CHAT + Q&A WITH CHRIS KREBS
Former Director of the U.S. Cybersecurity Infrastructure Security Agency (CISA) and Co-Founder of Krebs Stamos Group, Christopher Krebs, will be joining us for a live fireside chat and Q&A at DevOps Connect at RSAC 2021 on May 19 at 12:00 p.m. EDT.
Join Chris Krebs live to learn how to recognize fake news and the challenges disinformation poses to cybersecurity teams. Krebs will reveal effective ways to combat disinformation, and explain how public and private partnerships can help.
LIVE Fireside Chat — Disinformation: As Dangerous as Cyber and Physical Threats
We live in a digital world where most information is now found online. Threat actors have been taking advantage of the digital landscape to spread disinformation, propaganda and conspiracy theories to manipulate the public and sow doubt, discord and chaos. We have seen how disinformation can impact elections, and now it is being used to denigrate COVID-19 vaccinations. How can we distinguish between fact and opinion, truth and supposition? How can we spot fake news and tackle disinformation?
In this session, Christopher Krebs defines disinformation, the challenges it poses to cybersecurity teams and how to fight it.
LIVE Q&A
Christopher Krebs will be taking questions from the audience during a live Q&A session. Get your questions ready!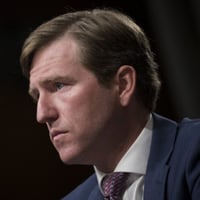 Christopher Krebs is a founding partner of the Krebs Stamos Group, and previously served as the first director of the Department of Homeland Security's Cybersecurity and Infrastructure Security Agency (CISA), where he oversaw apolitical and bipartisan efforts to protect the nation's businesses and government agencies, bringing together partners to collectively defend against cyber and physical threats. Mr. Krebs led the charge to secure and defend the integrity of the 2020 Presidential election by implementing groundbreaking collaboration measures among federal, state and local government and the private sector. At CISA, Mr. Krebs also pioneered the Rumor Control program, which was designed to counter disinformation campaigns.

Before serving as CISA Director, Mr. Krebs served in various roles at the Department of Homeland Security, responsible for a range of cybersecurity, critical infrastructure and national resilience issues. Prior to his time at DHS, he directed U.S. cybersecurity policy for Microsoft, and advised industry and government clients on complex cybersecurity and business risk matters, while serving at positions with Obsidian Analysis and Dutko Consulting. He also served in the George W. Bush Administration, advising DHS leadership on domestic and international risk management and public-private partnership initiatives.

Mr. Krebs holds a Bachelor's degree in Environmental Sciences from the University of Virginia and a J.D. from the Antonin Scalia Law School at George Mason University.
DevOps Connect has been part of the RSA Conference for six years in a row. This year, the main focus of the event is on "Securing the Cloud Native World." Chris Krebs has joined a stellar lineup of DevOps, cybersecurity and IT thought leaders as the DevOps Connect 2021 featured keynote speaker.
We have an action-packed agenda featuring:
50+ speakers
6 keynote presentations
4 workshops
15 featured talks
16 insight sessions
14 spotlight panels
Plus, there will be some cool surprises (spoiler alert: we have scheduled a Pilates class by a certified instructor, a mixology demo, giveaways and more). Don't miss out! Register now to save your spot.