Sponsored by Quest Software
April 18, 2019
1 PM ET
We have all seen the press coverage on corporate data breaches and compromises to personal data. You've probably heard about the new EU General Data Protection Regulation (GDPR) that came into effect in May last year, which affects any company that manages the personal data of EU residents. There are also some U.S. regulations that cover data privacy, such as HIPAA, HITECH, PCI and the CA Consumer Privacy Act.
Of these, GDPR is considered the most comprehensive when it comes to the needs of the individual and how their personal data should be protected and carries the harshest financial penalties for non-compliance.
The DBA is often the primary responsible party for implementing compliance controls and technical measures for protecting data. But the GDPR first requires an assessment of where PII and sensitive data is across multiple databases and this will be one of the first challenges a DBA will face before applying protection measures.
With many DBAs having to manually trawl through their database tables to identify sensitive data, what is needed is a fast, effective way to automate the discovery process and report on where sensitive data is stored. This would save time and enable companies to determine the most appropriate way to apply protective safeguards in order to minimize data breaches in the future and protect the business.
If you are a DBA responsible for your company's data and are concerned about how to identify and protect your data, you should attend this webinar to find out how you can simplify and automate this task.

Debra J. Farber, JD, CISSP, CIPP/US/E/G, CIPM, CIPT, FIP
Sr. Director of Privacy Strategy
BigID
Debra is the senior director of privacy strategy at BigID, where she leads initiatives related to privacy evangelism, industry collaboration, product innovation and legal channel partnerships. She has over 14 years of experience with privacy and security strategy, operations, product development, public policy and compliance efforts across industries and frameworks. A leader in her field, Debra created and leads a global network of Engineering Privacy meetup groups, co-founded Women in Security and Privacy (WISP), and currently holds several advisory roles. She serves as Vice Chair for the U.S. Technology Advisory Group to the global ISO/PC 317 "Privacy by Design for Consumer Products & Services" standard-setting initiative. She is an advisory board member at Habitu8, IAPP, The Future of Privacy Forum, & TrustRank. In addition, she serves on the editorial board for Cyber Security: A Peer-Reviewed Journal and sits on the IAPP CIPT Exam Development Advisory Board.
Recently, Debra was the senior director, global public policy (security and privacy) at Visa where she oversaw a portfolio of issues, including data privacy, cybercrime, cybersecurity, product security, risk, authentication, IoT, blockchain and payment risk. In this role, she represented Visa on the World Economic Forum's Advancing Cyber Resilience Working Group, which published a toolkit for global boards of directors at the 2017 WEF Annual Meeting in Davos, Switzerland.
Before her role at Visa, Debra held privacy and security leadership roles at IBM, American Express, TrustArc, IANS, The Advisory Board Company and Farber Strategies. She has earned several designations: CISSP-ISSMP, CIPP/US, CIPP/E, CIPP/G, CIPT, & CIPM and has been named an IAPP Fellow of Information Privacy.
https://www.linkedin.com/in/privacyguru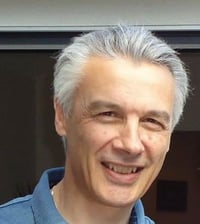 John Pocknell
Senior Solutions Product Marketing Manager
Information Management Group
Quest Software
John Pocknell is a senior solutions product marketing manager at Quest Software. Based at the European headquarters in the U.K., John is responsible for developing and evangelising solutions-based stories which relate to major IT initiatives for our extensive portfolio of database products worldwide. He has been with Quest Software since 2000, working in the database design, development and deployment product areas. John has spent over 18 years (including 12 years in Product Management) successfully evangelising Toad to customers at various conferences and user groups around the world and he writes blogs and produced many videos on the Toad user community, Toad World as well as technical papers about Toad on the Quest Software website.
John has worked in IT for more than 30 years, most of that time in Oracle application design and development. He is a qualified aeronautical engineer with more than 10 years of experience in provisioning IT consultancy services and implementing quality assurance systems to ISO 9001.
https://www.linkedin.com/in/johnpocknell/

* $50 Amazon gift card! REGISTER AND ATTEND THIS ENTIRE WEBINAR AND 3 PEOPLE HAVE THE CHANCE TO WIN A $50 AMAZON GIFT CARD RIGHT ON THE SPOT!
This Campaign is open only to those who register for and attend the entire webinar. Employees of MediaOps and webinar sponsor(s)], its affiliates, subsidiaries, advertising and promotion agencies, and suppliers, (collectively the "Employees"), and immediate family members and/or those living in the same household of Employees are not eligible to participate in the Campaign. The Campaign is subject to all applicable laws and regulations. Void where prohibited. The Winner(s) of the Campaign will receive a $50 Amazon gift card which will be provided by MediaOps. Winners will be selected by the webinar moderator at the conclusion of the event and announced live at that time. You must be an attendee at the time of the drawing to win. No purchase is necessary. It is agreed that MediaOps has permission to use your name as a winner in promotional efforts and social media.