Sponsored by Sumo Logic
December 11, 2018
11 AM ET
The Accelerate State of DevOps Report is the result of five years of research--with over 30,000 data points - to understand high performance in the context of software development, and the factors that predict it.
In this webinar, we discuss the latest key findings in the 2018 report. Join us to learn how:
Software delivery performance unlocks several competitive advantages including increased profitability, productivity, market share, customer service, and ability to achieve organization or mission goals.
Not just using cloud infrastructure, but implementing cloud as it's intended to be used, contributes to high performance
Outsourcing may save money in the short term, but is much more likely to contribute to low performance
Identifying key technological practices can drive high performance across your organization (and evidence that industry vertical doesn't matter)

Gene Kim
Author, Researcher, and Founder of IT Revolution
Gene Kim is a multiple award-winning CTO, researcher and author. He was founder and CTO of Tripwire for 13 years. He has written four books, including "The Phoenix Project: A Novel About IT, DevOps, and Helping Your Business Win", "The DevOps Handbook", and the newly-released "Accelerate". Since 2014, he has been the organizer of the DevOps Enterprise Summit, studying the technology transformations of large, complex organizations.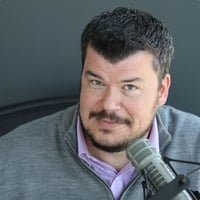 Ben Newton
Director, Product Marketing, Sumo Logic
Ben is a veteran of the IT Operations market, with a two decade career across large and small companies like Loudcloud, BladeLogic, Northrop Grumman, EDS, and BMC. Ben got to do DevOps before DevOps was cool, working with government agencies and major commercial brands to be more agile and move faster. More recently, Ben spent 5 years in product management at Sumo Logic, and is now running product marketing for Operations Analytics at Sumo Logic. His latest project, Masters of Data, has let him combine his love of podcasts and music with his love of good conversations.